Kayak & Canoe Tours
From placid lakes to wild rivers and stunningly beautiful coastlines, kayaking and canoeing holidays are as varied as they are exciting. Whether you're a passionate sea kayaker, a complete beginner or you're simply looking for a unique and action-packed adventure, discover a range of water-based tours and guided trips in spectacular destinations like Canada, Costa Rica, Scotland, and more!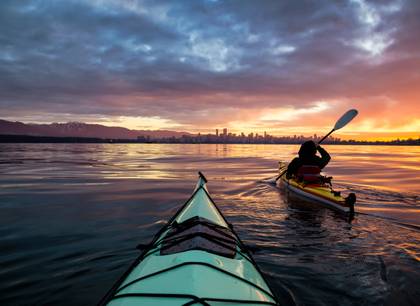 59 Kayaking Vacation Packages with 248 Reviews
Where to Go On a Kayaking Adventure
Paddle down Europe's most iconic rivers, take on whitewater rapids in North America's national parks, or glide through Scandinavia's starkly beautiful landscapes  — no matter what type of trip you're after, you'll find it in our extensive selection of kayak and canoe tours.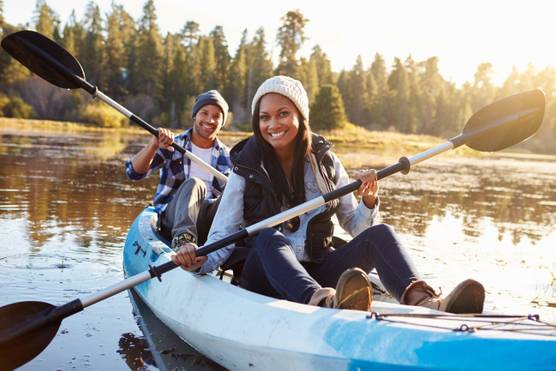 Love the Serenity? Go Private.
Add your personal touch to one of our ready-to-book adventures and enjoy a tour focused solely on your travel group. Whether you paddle down Europe's famous rivers or challenge whitewater rapids in North America's national parks, the world is yours on a private tour.

If you're looking to book a tour for four people or more, send us a message and we'll do the hard work for you!

✓ Personal - make your adventure more you
✓ Private - enjoy a tour focused solely on your travel group
✓ Professional - access our Travel Experts' insider knowledge
 
Popular Places to Go Kayaking
From Canada to Croatia, Costa Rica to Sweden, these countries offer some of the best kayaking vacation packages on the planet.
Kayaking Adventures Around the World
Bucket List Kayaking Experiences
Kayaking with whales

If paddling alongside whales is at the top of your travel wish list, plan a kayaking trip to the Kenai Peninsula in Alaska, Husavik, Iceland, or Johnstone Strait (located off the east coast of Vancouver Island, Canada), which is home to the largest resident pod of killer whales in North America.

Polar kayaking

Kayaking is one of the most magical ways to explore the otherworldly landscapes of Antarctica and the polar regions. Spotting icebergs and seeing a whale breach for the first time are incredible experiences, and they'll be amplified when you're at eye level, only inches above the water. Learn more about polar kayaking.

Surf kayaking

Combining the control and maneuvering of traditional kayaking with the excitement of riding waves, kayak surfing is an exhilarating adventure sport that's becoming increasingly popular in the paddling world.
Kayaking Itineraries for Everyone
Choose Your Activity Level
Easy

Typically involving moderate activity, tours that fall into this category are accessible to beginners and all guests in good health.

See Easy Adventures

Moderate

This trip style requires travellers to have a sense of adventure and a good level of fitness, as it generally involves a wide range of activities and longer journeys.

See Moderate Adventures

Serious

Trips in this category may include remote destinations and challenging or strenuous activities, so they're best suited to experienced active travellers in excellent physical condition.

See Serious Adventures
Places to Start Your Kayaking Adventure
Your Kayak & Canoe Questions, Answered
What gear is included?

This will vary depending on the company and operator you choose. Most tours include a kayak or canoe and essential safety gear, and some operators may also supply extra equipment like dry bags, snorkelling masks, or camping equipment. Additionally, you may have the option to choose between single kayaks or double kayaks, so be sure to check with your tour operator about equipment and gear.

How fit do I have to be?

Most tours require you to be reasonably fit, but you can choose from different activity and experience levels to suit your specific preferences. Keep in mind that general good health will go a long way if you encounter any tides or strong winds.

How often will I get to kayak?

This will depend on your destination and the type of trip you book. Some tours are balanced with other activities and require only a few hours of kayaking per day, while more intensive tours may average anywhere from 4 to 6 hours of paddling per day.

How big is the tour group?

Group sizes vary by tour; some trips include only a handful of participants for a more intimate experience, while others will have larger group sizes.
Book your Kayak & Canoe trip today!
+1 844 311 8331
24/7 Support
Our team of experienced tour specialists have travelled to hundreds of countries around the globe and have decades of first-hand travel experience to share. Contact us now to have all of your tour-related questions answered!
Current Deals on Kayaking Tours
Best Operators & Tour Companies for Kayaking Adventures
ACTIVE TRAVEL INSPIRATION HAND-PICKED BY OUR TRAVEL EXPERTS