Hawaii Tours & Trips
Crystal clear swells create idyllic surfing spots, helicopter rides offer sky-high views of active volcanoes, and crisp-green jungles contrast with some of the best beaches in the world. It's not hard to see why these islands are deservedly named the Paradise of the Pacific. Whether you relax in a 5-star resort in Honolulu or head underwater in search of marine life in Maui, there's no shortage of amazing adventures in Hawaii.
Over 35 Hawaii Tour Packages With 43 Reviews
Most Popular Destinations in Hawaii
Types of Hawaii Adventure Packages
With many wonderful adventure styles at your fingertips, searching for your ideal adventure has never been easier! Channel your inner explorer and kayak alongside humpback whales or enjoy a scenic flight over Jurassic Park sights. From epic hikes and surfing lessons (and even ocean cruises that weave between the islands!), we've got you covered with the best Hawaii vacation packages.
Travel Around Hawaii Your Way
Private Adventures

Add your personal touch to one of our ready-to-book adventures and enjoy a tour focused solely on your travel group. Be treated like a VIP on a private tour, indulging in exclusivity and personalization. Enjoy the freedom and flexibility of touring, your way.

See All Private Hawaii Adventures

Group Adventures

Uncover new experiences with those who are just as excited as you are, feel safe with a guide by your side, and enjoy the balance between activities and free time to explore. With little preparation needed, a group adventure is a great last-minute choice and is perfect for those traveling solo.

See All Group Hawaii Adventures

Tailor-Made Adventures

Tailor-made adventures offer experiences that you can easily modify to suit your interests and needs. Browse our pre-designed itineraries and upgrade your accommodation or add your favorite activities. Alternatively, you can create your ideal package from scratch by reaching out to us!

See All Tailor-Made Hawaii Adventures
Best Things to Do in Hawaii
Nā Pali Coast

For a breathtaking view only accessible by water, sailing Kauai's north shore is a must! The Napali Coast is a sacred location favorited for its striking natural beauty. These emerald-colored cliffs with razor-sharp ridges rise high above the Pacific Ocean, displaying an artwork of waterfalls that drop down to the verdant valley below.

Pearl Harbor

Everywhere has a history and evidently one of the most memorable events of Hawaii's past took place at Pearl Harbor. Learn how this seemingly peaceful harbor changed the course of history. Take a tour of a plane hangar that bears the scars of that fateful day, or hear firsthand accounts from survivors of the chaos on Battleship Row.

Hawaii Volcanoes National Park

It's impossible to tour the Big Island without seeing its famous volcanoes. Bring your camera to record your memories and encounters with these natural wonders! Aside from lava flows, the history itself is worth a visit, full of ancient Hawaiian legends, archaeological finds, and fascinating stories - you're in for a treat!

Mauna Kea

There's no better place to spend the evening in Hawaii! If you want to see more than just a peek of the impossibly starry night sky, take a visit to the Information Center near the observatory on Mauna Kea. If you spend just a few minutes staring up at the night sky, you'll see why Mauna Kea is so significant, both scientifically and spiritually.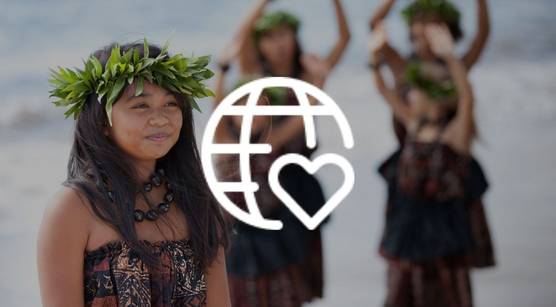 Travel Safe in Hawaii
We've gotten so used to touring the world through our laptops, enviously looking at our past travel photos, dreaming of the day when we can travel safely again. Bring those dreams to life with TourRadar - where we've got your back!
Working closely with the World Travel & Tourism Council (WTTC), both our Travel Experts and adventure operators have adapted to unprecedented changes in travel plans, with our new Peace of Mind program and travel insurance that covers cancellations in these unexpected times. Stay on top of
COVID-19 travel restrictions in Hawaii, vaccination requirements
, and
changes to border restrictions
within your country with our
Safe Travels Guide
, so that you can travel worry-free. You deserve it!  
Read More
Weather in Hawaii
JAN
FEB
MAR
APR
MAY
JUN
JUL
AUG
SEP
OCT
NOV
DEC
High °C
27
27
27
28
29
31
31
32
31
31
29
28
Low °C
19
19
20
21
22
23
24
24
24
23
22
21
High °F
80
80
81
83
85
87
88
89
88
87
84
82
Low °F
67
67
68
70
72
74
75
76
75
74
72
69
Rainfall (mm)
45
50
60
20
20
15
15
20
20
40
55
55
Create Your Perfect Hawaii Itinerary
Known for its striking landscapes and incredible outdoor adventures, Hawaii is the perfect destination. Whether you're cruising amongst the islands on a two-week ocean cruise or diving to discover a colorful underwater world on a week-long adventure, our itineraries have been carefully crafted to help you get the most out of your Hawaiian vacation.
Hawaii Tours Designed for You
Hawaii Travel Tips
Key Facts

As the only US state not on the mainland, Hawaii is an archipelago located in the heart of the Pacific Ocean, about 2,000 miles from the mainland. The capital city is Honolulu.
 

Population

Approximately 1.4 million

Language

English and Hawaiian are the state official languages, however, English is widely spoken throughout the main islands. It's always handy to learn some local phrases before your trip!
 

Language

English & Hawaiian

Getting Around

Hawaii boasts rugged tracks and winding roads perfect for exploring via car, shuttle, or public transport. Our favorite way of getting around is by boat or ship!
 

Drives on the

Right
How do I travel from one island to another?

Hawaiian Airlines, Island Air and Molukele Airlines all offer inter-island flights for easy transfers. Each carrier services the islands of Oahu, Maui, Kauai and the Big Island of Hawaii. Passenger ferries are also a great option, with the exception of Maui, Molokai and Lanai, where there are no ferry services.

I'm a US citizen. Do I need a visa to travel to Hawaii?

In short, no. Documents for travel to/from Hawaii and within the Hawaiian Islands are the same for any other US state, you only need to provide a valid government photo ID.

For more information, please check the TSA website.

How much does an average trip to Hawaii cost?

For a 7-day package, you're likely to pay between US$260 - $700 per day, but this may be more or less depending on your preferences and travel style (a luxury tour will naturally cost more than a budget-friendly adventure). Be sure to save some dollars for your trip as Hawaii is notably one of the most expensive states in the USA.

How do I book a Hawaii vacation on TourRadar?

Find your next adventure by searching through our Hawaii tours until you find one that ticks all of your boxes! Simply choose your desired travel dates and fill out your details to secure your adventure. If you have any questions along the way, our Travel Experts are standing by 24/7.
Current Deals on Hawaii Trips
Best Adventure Operators & Tour Companies in Hawaii
Much loved by our past travellers, these tour operators know how to craft the perfect Hawaii vacation! 
HAWAII TRAVEL INSPIRATION HAND-PICKED BY OUR TRAVEL EXPERTS